https://www.youtube.com/watch?v=i3cDVqyw98M&feature=youtu.be
Why the Life of a Jesus Follower?
Many of us seek to follow Jesus and bring glory to Him with our lives, but if we're honest, Christianity seems more like a burden than a joy. We've lost what Paul referred to as the simplicity and purity of following Jesus. Why is the life that came so naturally to Jesus so difficult for us? Because we have complicated and over-programmed the simple way that Jesus showed us to love God and others.
While we typically think of following Jesus in terms of what we do or what we know, following Jesus is really all about relationships! It begins with a daily, intimate relationship with the Father. It spills into a fellowship with other believers. And it overflows into sharing our relationship with Jesus with those who don't know Him at all. When we follow Jesus' model, we will stop working so hard, as we allow His life to flow in and through us.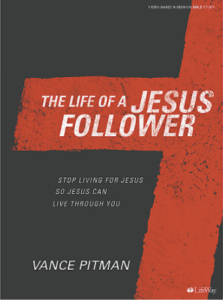 Life of a Jesus Follower is a resource that Grace Point Fellowship uses to help introduce you to the rhythms of relationship that Jesus walked in and show you how to make them a part of your life.
Where can I get the book? 
We provide copies of the book for purchase at our Next Steps table at Grace Point Fellowship that are available every Sunday and throughout the week.  You can also purchase the book online directly from Lifeway by clicking the button below. 
Purchase Online
Where can I watch the session videos?
As a resource to accompany the book, Grace Point has purchased the videos for our members to view which you can access by following the links below. If you desire to purchase these videos for yourself, you can also find them by visiting Lifeway online.